Billy Beretti
Gender:
Male
Resides in:
New York, New York
Hair Color:
Brown
Eye Color:
Brown
Occupation(s):
CEO and Executive Producer of Creedmoor Records

Family:
Unnamed son (deceased)
Employees:
Anika Calhoun (A&R)
Enemies:
Lucious Lyon
Interests:
To prevent Empire's IPO (failed)
To take down Lucious Lyon and his Empire (failed)
First Appearance:
False Imposition
Last Appearance:
Die But Once
Portrayer:
Judd Nelson
Billy Beretti is a recurring character in the first season of Empire. Beretti first appears in False Imposition, although mentioned briefly in previous episodes. He contributes as an antagonist for Lucious Lyon, as the CEO of Creedmoor Records, a recording label competing against Empire Entertainment. 
He is portrayed by actor Judd Nelson.
Biography
Billy Beretti, head of Creedmoor Records, originally had a managing relationship with Lucious Lyon. Beretti produced Lucious' earliest albums and singles, including "That's What the DJ Spins". Due to conflicts, such as Beretti taking creative control of his artists, Lucious gradually departed from his label and his management. Therefore, Beretti and Lucious have encountered in a long-term rivalry and competition between different records. Beretti had a son, as revealed in Unto the Breach, that died of leukemia. 
Empire Chronology
Beretti is first mentioned when Empire's former artist, Kidd Fo-Fo, who was dropped by Lucious, is immediately signed to Creedmoor Records, Beretti's label. Lucious is enraged, assuming that Beretti is at the urge of taking Empire's artists for revenge, and he urges his team to stop Beretti from interfering with Empire going public.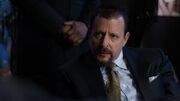 Billy Beretti makes at Laviticus, reuniting with Lucious after his departure from Creedmoor Records. It is evident that Lucious and Beretti are on extremely bad terms, as Lucious found out that Beretti credited himself on each of Lucious' music, and tells Beretti that while he can take as many artists as he want for Creedmoor, he himself will always lack talent and artistry. Beretti then threatens to bury Empire and everyone in it if Lucious does not cancel his IPO. 
As a part of revenge for Lucious's affair with Cookie, Anika arrives to Beretti's record company, plotting to take Empire's artists and send them to Creedmoor. 
Beretti returns when Anika decides to leave Lucious and the Empire Entertainment label for Creedmoor, taking Lucious's artist, Veronica, with her. Meanwhile, Beretti reveals to Anika of how his son died at age 9 because of leukemia, and how Lucious was the first artist he signed after. He attempts to convince Anika to tell him of Lucious's flaws to begin Empire's demise, although Anika refuses to admit of Lucious's ALS due to the fact that her father would be implicated. A showdown occurs between Lucious and Beretti in defense of their labels. 

After it is revealed that Hakeem is deciding to leave Empire Entertainment for Creedmoor Records, Lucious encourages Jamal to go after Beretti. Jamal meets with Beretti, and threatens to throw him off the balcony if he doesn't sign over Lucious Lyon's masters and perpetuity, similar to how Suge Knight did the same to Vanilla Ice.
Community content is available under
CC-BY-SA
unless otherwise noted.