Derek Luke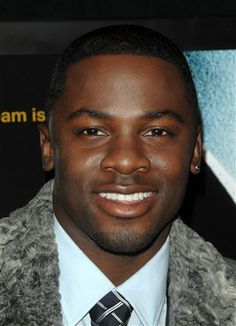 Malcolm DeVeaux, Cookie's love interest, in the FOX television series, Empire.
Early Life
Luke was born in Jersey City, New Jersey, the son of Marjorie Dixon, a pianist, and Maurice Luke, a former actor. His father is from Georgetown, Guyana. He attended freshman year at Linden High School and graduated from Henry Snyder High School in 1993.
Career
An audition with casting director Robi Reed-Humes for the role of Antwone Fisher was a success, just enough that Luke was called in to meet Washington, one of Luke's childhood idols. Meanwhile, in 2008, Luke played one of the four male leads in Spike Lee's 2008 war film Miracle at St. Anna, replacing Wesley Snipes.
Luke has also appeared in many other films, most notably Glory Road, Madea Goes to Jail, and more. Luke played a small part as a nurse in the 1999 episode "White Collar" of the sitcom The King of Queens, and appeared on the NBC show Trauma. He played one of the group members of Mayhem in the Moesha episode "Mayhem at the Jam Esp' (March 19, 2001).
He plays Alicia Keys' love interest in her music video for "Teenage Love Affair". He played singer Monica's love interest in the her music video for "So Gone". Luke played Sean 'Puffy' Combs in the 2009 film Notorious,[2] and James 'Boobie' Miles in the 2004 film Friday Night Lights. Luke was cast to play Gabe Jones, a member of the Howling Commandos in Captain America: The First Avenger, released in July 2011.
External Links
Community content is available under
CC-BY-SA
unless otherwise noted.