Jermel was a minor character in the FOX television series, Empire. He was the cousin of Candace, Cookie Lyon and Carol Hardaway. He first appeared in "Dangerous Bonds", after Cookie hired him to kill Teddy McNally.
He returned in "The Devils Are Here" and was the target of Frank Gathers while in prison with Lucious Lyon. He was killed by Frank Gathers inside the prison, and his decapitated head was sent as a message to Cookie and Carol.
Jermel is portrayed by actor and comedian, DeRay Davis.
Series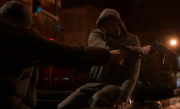 Jermel is introduced when Cookie and Carol visit him after Cookie is in danger. Jermel promises Cookie that he would stop the roses, a hint from Frank Gathers, from coming to her. Afterwards, Cookie gives Jermel $5,000 in return, although Jermel denies the offer at first. When Cookie realizes that the roses were a misconception, she notices that it's too late to stop Jermel, who kills Teddy McNally
The Devils Are Here
In the second season opener, Jermel is in jail, sentenced to five years for armed robbery. Jermel approaches Lucious, who is also in jail with him, to warn him about Frank Gathers' arrival to the prison. Lucious denies any animosity between him and Frank, but Jermel fears that he's in danger because of Cookie. After Lucious shuts Jermel down, Lucious' allies push him away. Frank Gathers approaches Jermel in a tense setting, and he is aware that Jermel killed Teddy McNally. Jermel hides his actions to protect himself, but he is attacked and reveals to him that Cookie snitched on him. Gathers then has Jermel killed, and has his goons sent his decapitated head to Cookie's apartment as a message.
Community content is available under
CC-BY-SA
unless otherwise noted.