Leah Mary Walker is the mother of Dwight Walker (now known as Lucious Lyon), the grandmother of Jeffery Kingsley, Andre, Jamal and Hakeem Lyon, and the great-grandmother of Bella Lyon and Prince Lyon. She suffers from bipolar disorder.
She has a recurring role in the second season of Empire portrayed by Kelly Rowland via flashbacks. She is also "played" by Keishana Miller, who portrays a fictional version of Leah Walker for the music video for "Boom Boom Boom Boom". She is currently being portrayed by Leslie Uggams.
Appearances
When Andre asks Lucious how come he hates him, Lucious has a flashback about his mother. In the flashbacks, he asks his mother to sing "The Itsy Bitsy Spider" to him. While singing, she zones out. The flashback then ends, and Lucious simply tells Andre that he does not hate him.
After Andre tells Lucious that he's about to be a father, Lucious immediately inquires into the mental health of the child. Andre believes the child will not inherit the disorder as bipolarity does not run in their family; this causes Lucious to have a flashback about his mother using up all her money to buy him birthday gifts, despite it not being his birthday. (This is also, in a way, a callback to Andre's first bipolar breakdown, where he bought everyone New Year's presents despite it not being New Year's). He then tells his mother to return all the gifts as they need food, but she simply enters into a catatonic like state, while Lucious sings to her.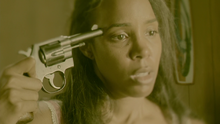 While talking to Andre at Laviticus, Lucious remembers when a social worker nearly removed him from his mother's care, due to their neighbors complaining to Child Protective Services (CPS) that Leah may be an unfit mother. Leah tells the worker that she loves her son, and Dwight (Lucious) tells her (the worker) that he wants to stay with his mommy.
At the end of the episode, after burning a photo of him, Vernon and Bunkie, Lucious once again thinks of his mother.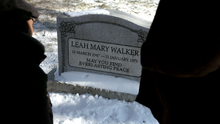 Lucious tells Andre about his bipolar mother and the pair visit her grave. The tombstone also reveals that she died on January 11, 1979. However, the end of the episode has Thirsty visiting Leah at a senior home, revealing Leah is still alive.